There is no doubt at the moment that supermarkets are ripping off the public by their overnight price hikes in food. This is not just limited to human food, but animal food as well, and for those that feed wildlife and birds like myself it means making some tough choices.
Even the "budget" stores like Aldi and Lidl have raised prices which are extortionate and items like 1kg bags of porridge oats to which I regularly feed the birds went up by 14p without explanation (70p to now 84p). Six pence also went on a loaf of bread.
Young geese are able to feed on grass from almost the word go, so long as they can get out of the water to feed. Cygnets however are more difficult to cater for, with their parents attempting to retrieve submerged food where there is often none at all. This is certainly true of many of the Victorian parks in Sandwell.
Unfortunately, too much emphasis was put into Green flag status parks by this council in the last 20 years. Some parks such as West Smethwick have undergone "restoration" schemes that have destroyed the greenery that was there, as well as the cowboy contractors who carried out the work and damaged the aeration cables which have still not been fixed after a year out of action. Why the council have not sued this company I do not know, but if they ever get another lottery grant, (and that body must now be somewhat weary), it can only be hoped that they will block Casey from applying any tender, because they are the very worst shoddy shit. 
For cygnets in such parks where they cannot gain access to grass, I would suggest finding a source of willow tree leaves, which usually grow by water, but are often out of reach for the parent birds to pick. This early spring food source is a natural food of choice for swans. 
Don't pick leaves that are overhanging or within reach that the adult birds could reach, but ones which are not in their reach. Strip downwards along the length of the stem and then remove any stems to leave just the leaves.
It is then best to grind up the leaves and throw them towards the adults, who will probably pick them up and drop them again to show the cygnets that it is food to eat. They may also start paddling their legs in the water to bring up weed. 
Another good cheap food source are small peas, which are just 28p at present in Aldi and I have found that these are well liked. Either put these on the side, or throw them in one at a time, and they will dunk for them.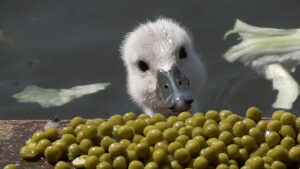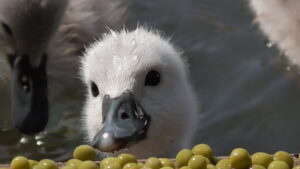 Of course, we will continue to be on the case of our local council and hope that they will plant more natural food in their pools, especially where works have left a clear vacuum of available survival for our birds.