We submitted a second FOI request to Sandwell council, a follow up asking for clarification on various points within their response to the first FOI request.
We clearly asked for the response to be sent to the what do they know website, as section 11 of the freedom of information act allows the requester to ask for a response to be sent to an address of their choice- in this case a public website that everyone can view requests made and information received.
DESPITE THIS, STEVE HANDLEY STREETSCENE DIRECTOR AT SANDWELL COUNCIL ONCE AGAIN FAILED TO DO THIS SENDING A PARTIAL RESPONSE TO MY HOME ADDRESS. WE DISSEMINATE THE RESPONSE THAT THEY AGAIN TRY TO HIDE FROM PUBLIC SCRUTINY BELOW. AS SOME OF THE QUESTIONS BELOW WERE NOT ANSWERED FULLY OR NOT AT ALL, WE SUBSEQUENTLY REFERED THE REQUEST BACK TO SMBC FOR AN INTERNAL REVIEW, WHERE FINALLY THEY UPLOADED THIS RESPONSE TO THE WDTK WEBSTE. WE WILL SUMMARISE THE INFORMATION GIVEN.
WHAT DID WE ASK AND WHAT DID THEY KNOW?
Q1 This is a follow up request to
https://www.whatdotheyknow.com/request/r…
In question 1 of this request you stated
"There was no cabinet report regards approval to relocate the geese. A cabinet briefing was presented to the cabinet member – this is not a public document. We do not hold any information regarding the approval of the process; as such approval was given
verbally for 2013/14."
I am seeking some clarification on your response to this question. I am requesting this cabinet briefing document in full and what options appraisal was given within it.
You state that it is NOT "a public document" I am requesting any document that you hold for the purposes of the freedom of information Act 2000 and the Environmental Information regulations.
You must state under what caveat you are applying to not release this document and also conduct a public interest test when doing so if you refuse to release it.
THE BRIEFING DOCUMENT, WHICH IN THE PREVIOUS REQUEST HANDLEY HAS STATED WAS "NOT A PUBLIC DOCUMENT" IS SHOWN BELOW, WRITTEN BY PARKS MANAGER JOHN SATCHWELL, WHO LIVES IN VICTORIA PARK TIPTON.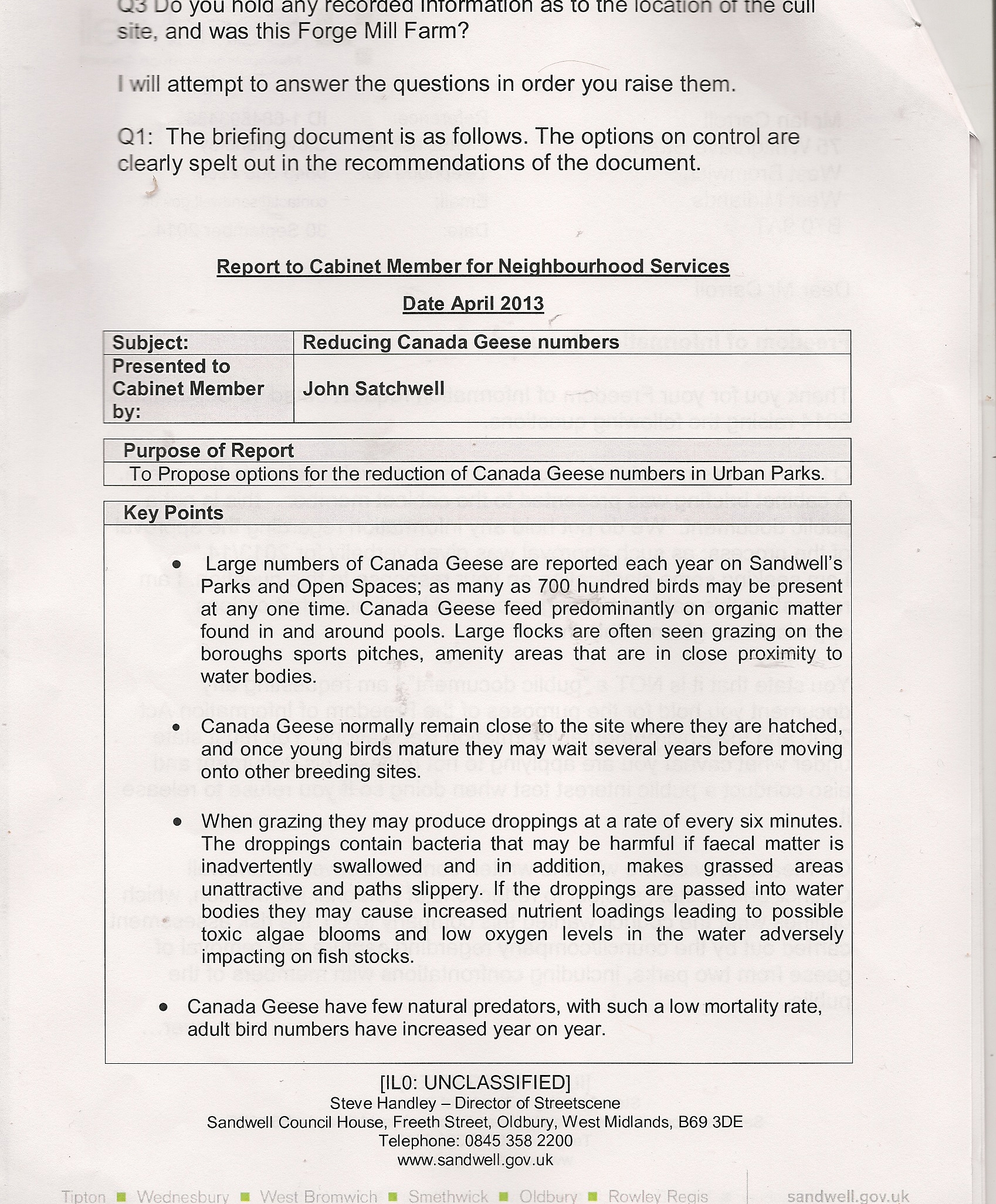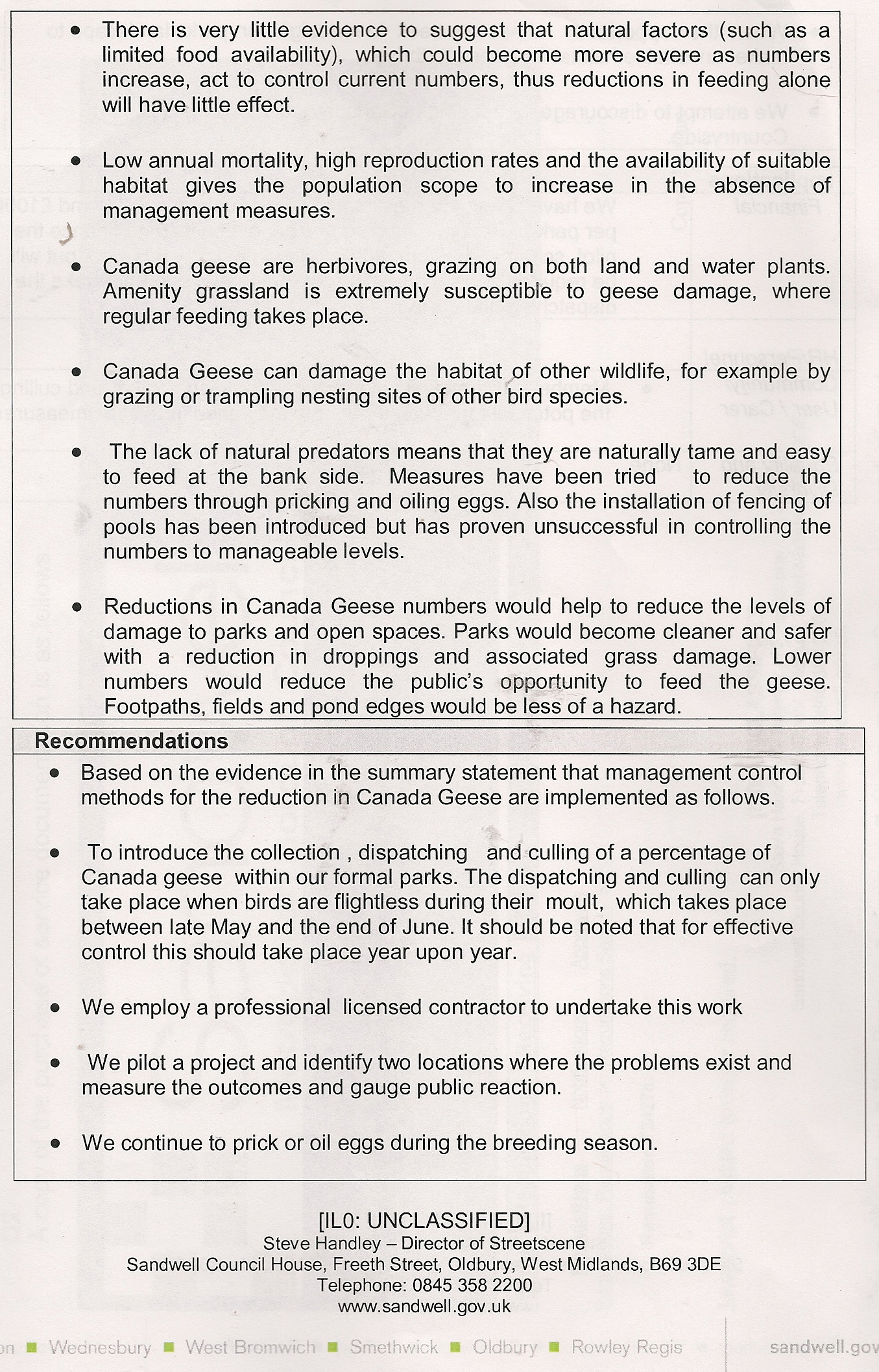 Q2 Please provide me with
#the written contract between Sandwell council and pestex, subject to redactions of personal information, which outlines what the council wanted this company to do.
#The risk assessment carried out by the council/company regarding capture and removal of geese from the two parks, including confrontations with members of the public.
"The risk assessment documentation is not available as this is held by the company employed to undertake the work. The issue of confrontation was given due consideration and approval was given to the contractor to undertake the work early morning at a time when the two parks were secure and not populated by visitors."
In question 2 Handley also provides "a copy of the purchase of service documentation", which is not what we asked for. This conveniently  refers to 2014 only and not 2013, which is when PESTEX were first tasked with rounding up birds, in line with Satchwell's  anti geese report.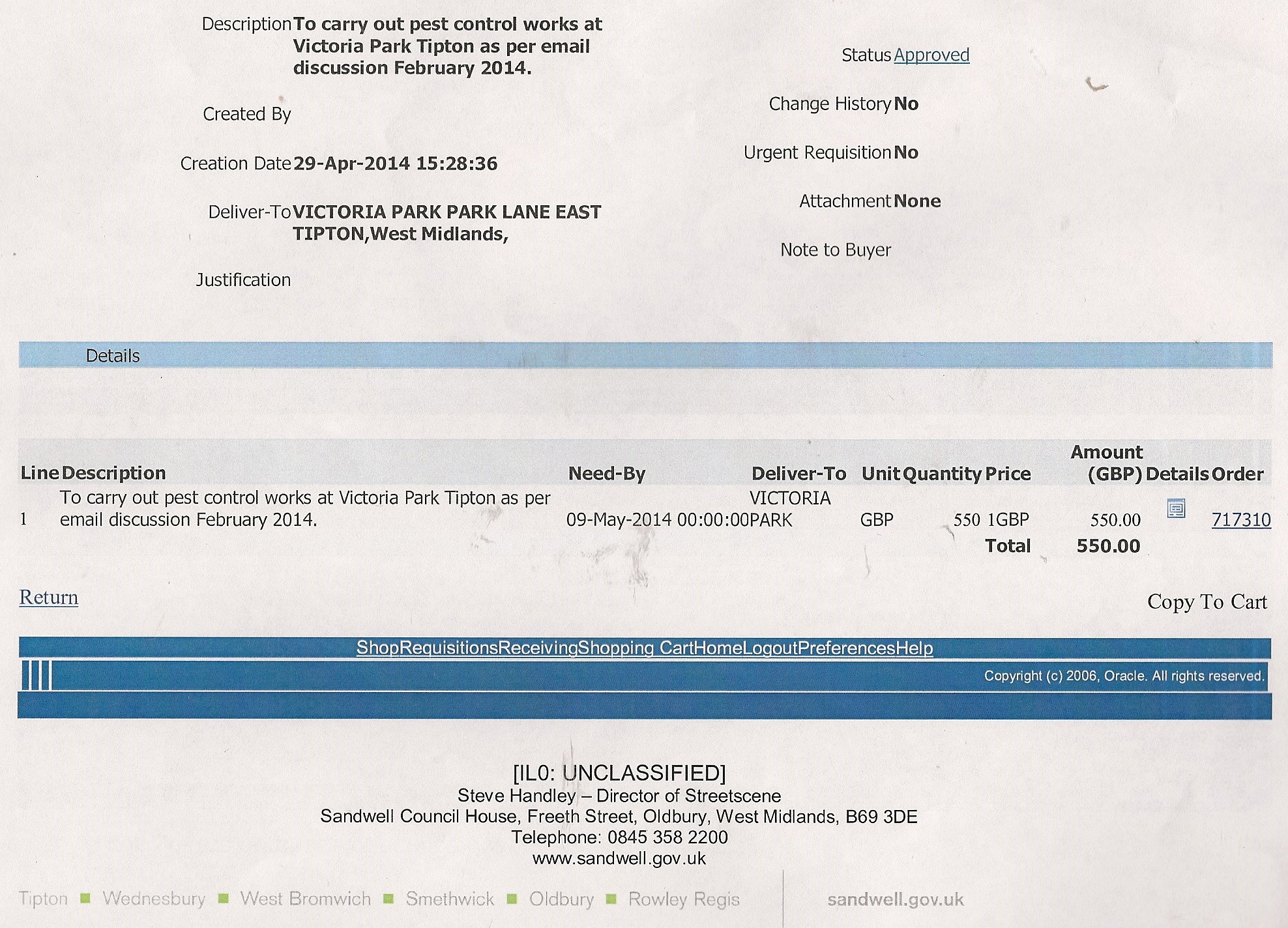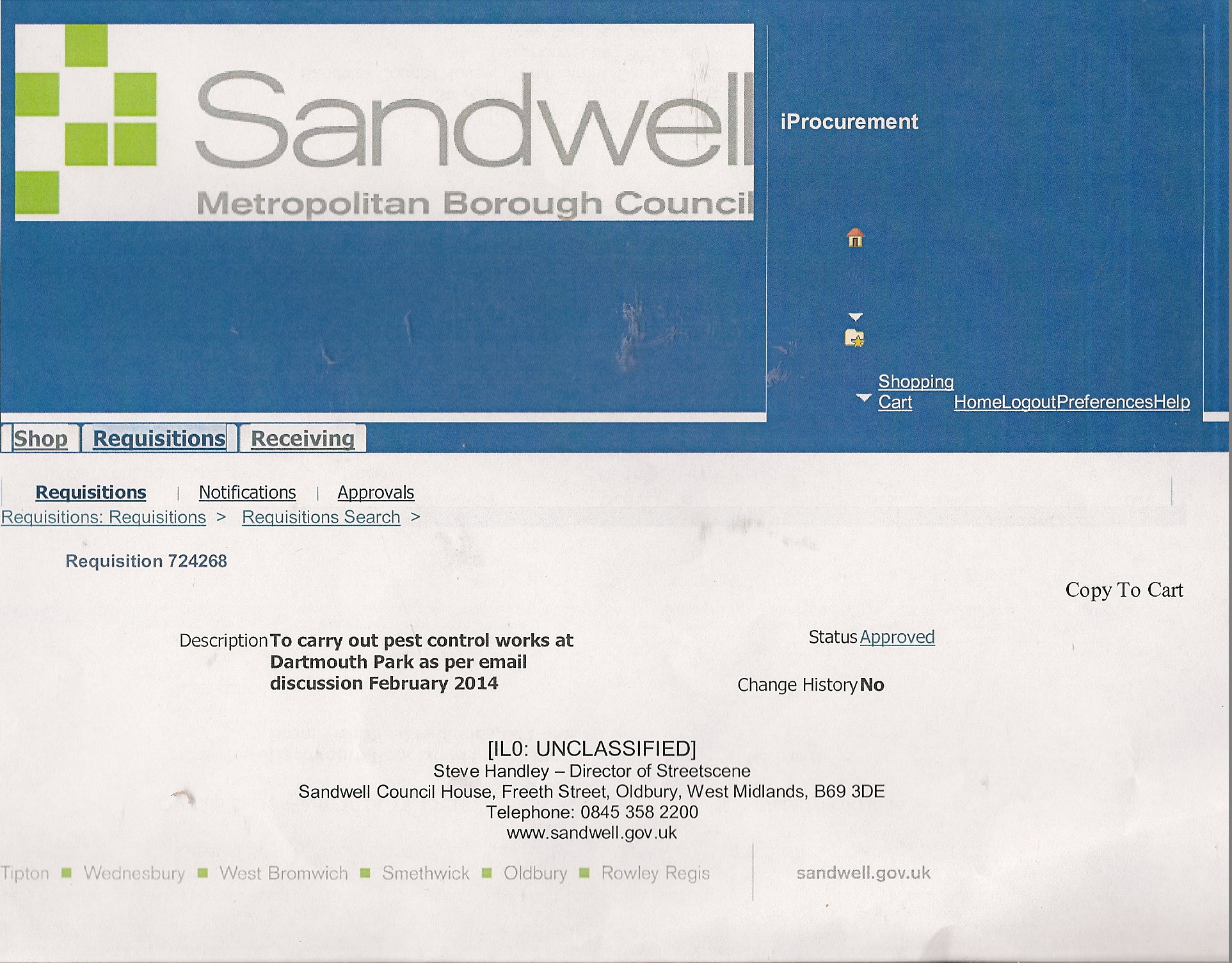 IN LIGHT OF NOT ANSWERING THE QUESTION PROPERLY WE ASKED FOR CONFIRMATION OF
1.      the written contract between Pestex and the Council to carry out
the culling, for both 2013 and 2014;
SMBC CONFIRMED
"It has been confirmed that no formal contract was drafted for 2013 or
2014."
2.      the e-mail discussion dated February 2014 regarding the carrying out of pest control works at Victoria Park and Dartmouth Park (mentioned in the purchase of service documentation);
"Culling was only undertaken at Victoria Park ,Tipton. Please find below
the e-mail referred to in the purchase order, duly redacted of any
personal data as per Section 40(2) of the Freedom of Information Act 2000."
E-mail from Pestex to Sandwell council officer.
Q3 Do you hold any recorded information as to the location of the cull site, and was this Forge Mill Farm? A transcript of a conversation between presenter Mollie Green and Councillor Maria Crompton on a BBC Radio WM interview on 26/8/14 stated
MOLLIE GREEN: "So the adults were killed?"
MARIA CROMPTON "We did take the adults and they were "humanely
destroyed".
MOLIIE GREEN: "How were they destroyed Maria?"
7 second silent pause
MARIA CROMPTON: "I don't know how they were destroyed, I know that they were taken to one of our farms and erm the company that is erm that took them are fully licensed by Natural England and that is what their job is to "humanely destroy"…. these….these geese."
MOLLIE GREEN: "And you have no idea how?"
MARIA CROMPTON: "I don't know how they killed the geese, no."
As revealed below, the question was partially answered
"Councillor Crompton was not informed of the location as to where the geese were dispatched to. The geese were dispatched to Forge Mill farm."
IN LIGHT OF NOT ANSWERING THE QUESTION TRANSPARENTLY, WE AGAIN ASKED FOR FURTHER CONFIRMATION IN THE INDEPENDENT REVIEW.
3.      whether the geese were culled at Forge Mill Farm and any recorded
information confirming this;
"They were dispatched and culled at Forge Mill Farm. I can confirm that
Sandwell Council liaised with PESTEX verbally to confirm the location of
the culling, but that no document is held regarding this matter. Please
note that  there is no requirement to report to Natural England and that
the company follows strict guidelines as stipulated by Natural England."
Q4 Do you hold any recorded information as to what method was used to kill the birds? These could include gassing, shooting or breaking their necks. Was any officer of Sandwell council present at the site where the birds were taken to and killed, and how if they
were not were you able to confirm that they had been killed "humanely"?
I include in this request documents held- emails, briefing notes or any other written communications. If you do not hold any recorded information or evidence as to how the birds were killed then please confirm this.
NOTE THIS QUESTION WAS TOTALLY IGNORED IN THE RESPONSE FROM SANDWELL COUNCIL.
IN LIGHT OF THIS WE AGAIN ASKED FOR IT IN THE INTERNAL REVIEW.
4.      the method used to cull the geese and any documents (e-mails, briefing notes or any other written communication) held pertaining to this;
"I can confirm that the Council hold no written information pertaining to the particular method of culling. Nevertheless, Sandwell Council was provided with documents outlining different options and liaised with PESTEX verbally at the time of the culling. We can confirm that the Council was made aware prior to the culling that the birds would be killed
using geese dispatchers which crush their vertebrae and sever the spinal column, rapidly killing them in accordance with Natural England Guidelines."
The council also provided a partial document from Natural England, which we believe they have found subsequently to the cull, and not before it, and also the apparent type of general licence that they were relying on for the cull. This was to "preserve public health and public safety."
WHAT DOES THIS MEAN?
Question 1- We have looked in detail at John Satchwell's biased briefing and refute many of the claims made within it  HERE.
Question 2 reveals that PESTEX were paid £550 per park in 2014, yet in the independent review it states that only birds in Victoria park were culled.  By process of mathematics based on their previous disclosures of culling 220 birds for both years, this means that 150 were killed in 2013, with 70 from Victoria park alone in 2014. WE FIND THESE FIGURES DIFFICULT TO UNDERSTAND, AND ALSO THE WORK OF WHAT APPEARS TO BE A STORY BEING MADE UP AS GREATER SCRUTINY IS APPLIED. QUITE PLAINLY WE BELIEVE THE COUNCIL ARE LYING.
It does not state what the "pest" exterminators they were actually tasked with doing in 2013, and neither was the cost for 2013 provided, not even when asked for this in the internal review.
In the previous request we had asked for the cost of the operation for both years, and were referred to a link which was obviously not helpful at all in disclosing this information. It would appear that the cost was not publicly available as Sandwell council had stated it was on its website. Only the 2014 totals were provided in the response to question 2, which we didn't ask for in this request.
We also note that the cost of this operation does not state explicitly that it involved the slaughter and disposal of the geese. Only the cost of "pest control works" is given, but this does not necessarily mean that the cost of culling and disposal were met by this same company.
The small print  "email discussion" February 2014 was obviously sent to John Satchwell. This reveals that PESTEX were tasked with not only killing the birds but previously egg pricking of numerous unnamed sites in Sandwell. In light of this, we wonder why if their operation was successful, and had been in previous years when they were employed by SMBC using tax payers money, were they needed to round up and kill so many adult birds? A question of missing a few to reapeat  subsequent future culling work?
Given that the birds were taken for "dispatch" to Forge Mill farm, we finally learn in the internal review, after 4 months of people asking where and how they were killed (or at least this is the council's latest story). It should be noted that when asked the direct question about the method used on live radio that  cabinet member Maria Crompton, who gave verbal approval for Satchwell's cull  was unable to answer this, and clearly did not know. If we are supposed to believe the council's version of events stated in their reply, it would appear that they did have this information all along, so why didn't the cabinet culler have that information when asked for it? She didn't know.
The method of breaking necks described using a so called "goose dispatcher" is an utter disgrace. "Humane" is not breaking a birds neck it is barbaric. We will be looking in more detail about Natural England and their extermination of wildlife with abhorrent cruelty in Britain shortly.
The general licence cited as the reason for culling by the council can be strongly disputed as being necessary, but this is also part of Natural England's hand washing of killing large numbers of animals that it does not like, whilst also siding with pro hunting organisations whilst chastising those who actually save wildlife in this country. This is again freely available on the internet, and does not have to be "applied for".
The lack of risk assessment held by the council as well as  any formal contract is concerning and dodgy in our opinion. Such work carried out on two public parks, whereby no council staff were apparently there should require such a document to be submitted.  We find it unlikely that an employer would not retain a copy of such an agreement from a contractor, in case any public liability was involved.
We do not believe at all that no council staff knew what was taking place at Forge Mill farm that day, or did they just look the other way? Opening of gates, disposal of carcases, closing of gates, blood and feathers on the ground?
The whole transaction and behaviour of this council in answering the questions posed is extremely amateurish, and also we believe symptomatic of a story being concocted as they attempt to cobble together a version of events., most likely with the aid of Natural England whom they list as "a partner organisation". THEY ARE ONLY PARTNERS IN MURDER OF HEALTHY WILDLIFE.
WE COMMENT
IN LIGHT OF THIS NEW INFORMATION, WE URGE EVERYONE TO BOYCOTT FORGE MILL FARM AND SANDWELL VALLEY FARMS. THERE IS AN ENTRANCE FEE PAYABLE TO SEE THE ANIMALS AS WELL AS USING THE TEAROOMS. OTHER MORE ETHICAL TOURIST ATTRACTIONS ARE AVAILABLE. INSTEAD OF LOOKING AT OTHER METHODS, EVEN MENTIONED BY THE CULLERS THEMSELVES, IT SEEMS THAT ONE SICK INDIVIDUAL AT SANDWELL COUNCIL DECIDED TO PRESS ON REGARDLESS, LIE REPEATEDLY ABOUT WHAT HE HAD CONSPIRED TO DO AND SUBSEQUENTLY THE COUNCIL APPEAR TO HAVE CLOSED RANKS AROUND HIM.
THEY WILL ALL GO DOWN WITH HIM AS FAR AS WE ARE CONCERNED.