One of the main claims made in John Satchwell's culling report was that egg pricking had previously been carried out in the formal parks but unsuccessfully reducing numbers of geese.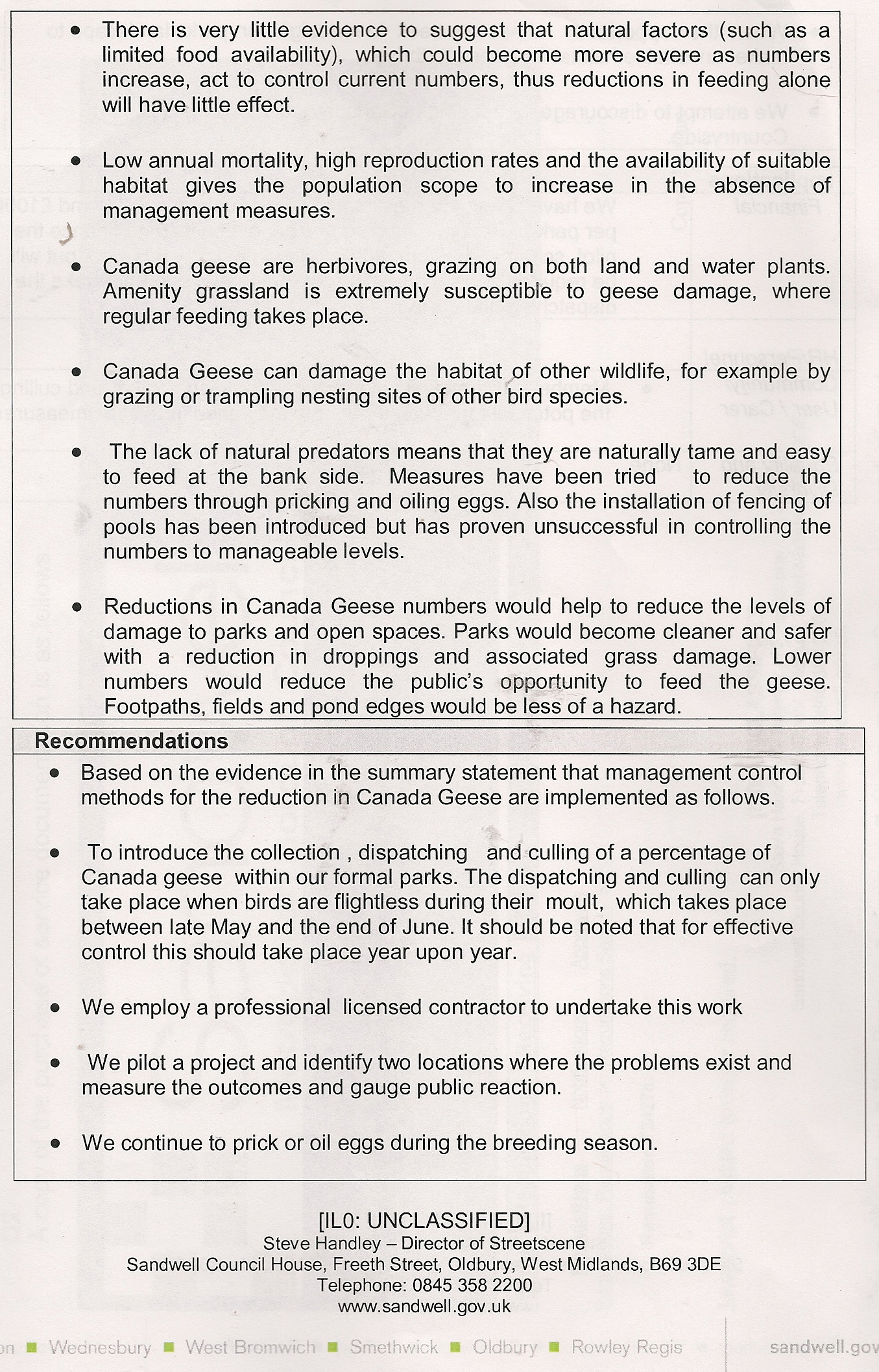 Egg pricking, it was claimed was already being carried out in 1997 and was also due to continue, according to the man who had John Satchwell's job at the time. There is reference to a cabinet report, which would have been interesting to read as to the council's rationale for continuing egg pricking at this time, as well as numbers of geese claimed to be present in the area at the time.
As a consequence of Sandwell's claims, we decided to ask them for more information regarding the process, and who had been tasked to carry this out.  As ever The Freedom of Information Act offers the only tool of extracting detail and not fiction propagated by lying officers of the parks department.
WHAT DID WE ASK AND WHAT DID THEY KNOW
From direct observation and inside sources at Sandwell council  we know that egg pricking had not been systematically carried out in the manner that Satchwell et al had claimed it had been from 1997. It was also clear that in addition to getting the revolting pest controllers to kill adult geese, that they had also tasked them with egg pricking prior to this. This is confirmed in an email dated 10th February 2014 obtained in another FOI request, though the details are sparse. Details for 2013 leading up to the first cull are not given.
SANDWELL COUNCIL RESPONDED TO OUR REQUEST.
1 I am requesting information relating to control of Canada Geese by egg pricking /oiling that the council claim to have undertaken since 1997.Could you please supply me with the cabinet report from this year which outline the process of egg control, rather than the culling of adult birds.
I will attempt to answer the issues raised in the order you raise them.    
Issue one. With regards to information relating to egg pricking/oiling, we do not have a Cabinet Report that outlines the process of egg control. 
2. Could you also indicate what recorded information you have for the years from 1997 to 2014 of sites in the borough where Canadian Goose eggs where pricked / oiled, how many nests and or eggs were pricked / oiled at those sites and also who undertook this work. Be
it in house via countryside rangers, estates staff or private contractor.
 Please note, that I am not concerned of the name of private contractors, just if the process was undertaken by council staff or by private contractor in the given years 1997 to 2014.
Issue two. The only recorded information we have is for 2013 and 2014, please see Appendix One highlighting the information you request. 
Issue three. The process for 2013 and 2014 was undertaken by a private contractor. Previous to this the process was undertaken by Council Staff.
NB. WE HAVE PRESENTED THE FIGURES GIVEN BY SMBC IN THE TABLE BELOW, GIVING CLARITY ON TOTALS FOR THE PARKS WHERE BIRDS WERE LATER CULLED.
SITE
NUMBER OF NESTS 2013
TOTAL EGGS TREATED 2013
NUMBER OF NESTS 2014
TOTAL EGGS TREATED 2014
DARTMOUTH PARK- WEST BROMWICH

 

6

 

29

 

3

 

10

HYDES ROAD-WEDNESBURY

1

4

0

0

REDHOUSE PARK- WEST BROMWICH

 

2

 

7

 

2

 

8

SMETHWICK HALL-SMETHWICK

 

2

 

7

 

2

 

8

VICTORIA PARK -TIPTON

 

2

 

12

 

1

 

5

VICTORIA PARK SMETHWICK

 

6

 

21

 

4

 

15

WEST SMETHWICK PARK

 

 

2

 

7

 

1

4

 

TOTALS

 

21

 

87

 

13

 

50
TOTAL NESTS 2013-14 =   33
TOTAL EGGS TREATED 2013-14 = 137
DARTMOUTH PARK NESTS 2013-14 = 9
DARTMOUTH PARK EGGS TREATED 2013-14 = 39
VICTORIA PARK TIPTON NESTS 2013-14 = 3
VICTORIA PARK TIPTON EGGS TREATED 2013-14= 17
DISCUSSION
It is left to speculation as to why Sandwell council would not have a copy of its own policy and cabinet report prior to John Satchwell's report, and that he and they apparently were unable to refer to this for background information when he or they considered a different culling strategy.
The council themselves it is claimed undertook egg pricking on their own sites prior to 2013. They cannot themselves offer any figures as to which sites, how many nests and how many eggs they supposedly pricked.
REMEMEBER, THIS SAME COUNCIL ARE CLAIMING THAT EGG PRICKING HAS NOT HAD ANY EFFECT, YET THERE IS SPECULATION AS TO HOW THEY COME TO THIS CONCLUSION WHEN THEY CANNOT OFFER ANY EVIDENCE THAT THEY ACTUALLY CARRIED OUT ANY EGG PRICKING AT ALL.
We know that Sandwell Valley staff were supposedly responsible for egg pricking for a good many years, accessing the islands by boat. The boat used for this purpose, based at swan pool, was according to Chris Moore, (now former manager of the Sandwell Valley), stolen some time from here around the mid 2000's. It was never replaced.
We know that at least for one year, a long distance swimmer, who was briefly employed as a ranger/life guard by Sandwell council did apparently have tasking to perform egg pricking. This was witnessed. He left the authority around 2010. Who carried it out after this and how?
There is not clear distinction as to what council owned sites are claimed to have had egg pricking carried out, just formal parks or the nature reserve sites also?
We know that in Dartmouth park at least, many hatched goslings in the late 1990's/early 2000's were ringed as growing juveniles in the moult period by a licenced BTO ringer- THUS SEVERAL GOSLINGS WERE HATCHING FROM THE SUPPOSEDLY "PRICKED" EGGS AT THIS SITE.
Pestex appear to have been appointed to carry out this work in 2013; the reasons for this are not explained, but perhaps someone thought that the task was not being carried out properly by the Sandwell Valley staff, or perhaps the staff thought the task beneath them? Value for money for the tax payer?
FIGURES
The figures for nests/eggs presumably were supplied to the council on request by Pestex. They do not under scrutiny do either John Satchwell or his report on which the council are relying to justify their cull any favours at all. In fact they seriously damage their own arguments.
THEY HAVE NO FIGURES FOR MONITORING OF CANADA GEESE NESTS OR EGGS AT THEIR FORMAL PARKS, SO HOW CAN THEY CLAIM TO HAVE ALSO BEEN MONITORING NUMBERS OF GEESE AT CERTAIN SITES, OR FORM ANY VALID OPINION ON INCREASE IN NUMBERS?
THE TOTAL NUMBER OF NESTS IN THE NAMED FORMAL PARKS FOR 2013-14 ARE JUST 33.
For Dartmouth park and Victoria Park Tipton just 12 nests are recorded, with just 68 eggs  over the two years, and it is highly unlikely that any of these nests would have been missed on the islands, (supposing the pest control company wanted to prick the eggs and did so). Don't the council make a regular point of claiming how "aggressive" the geese are when defending their nests? Surely the nests would not be missed.
This confirms that not all geese breed at the sites in question- given the 220 supposedly culled. 100 at Dartmouth park in 2013 and 50 in 2013 and 70 in 2014 at Victoria park. In fact it demonstrates that the birds at the sites during culling were not resident breeding birds there at all, but had specifically arrived at the site just for the moult period. Claims about how productive the birds are made in Adrian Scarott and Steve Handley's misinforming report to the scrutiny committee do not stand up.
False statements in the report-
"1.4 The Council has, for a number of years, made attempts to try and manage the numbers of Canada geese by adopting different control measures, namely oiling and egg pricking……but these measures have proved to be ineffective."

"2.1 Canada geese can live up to 20 years of age and a pair of geese normally mates for life and can produce up to 100 goslings over that period."

Sandwell council have therefore merely killed birds that arrived at these parks from elsewhere
2015 onwards?
It has become apparent that Sandwell council have retained Pestex to carry out egg pricking again. They have been seen in other locations, this year including non formal lakes where Canada geese can breed. The result of pricking eggs at such sites is likely to have the effect of making these nesting birds feel threatened at such "nature reserves", which are in general in Sandwell very poorly managed and overgrown litter jungles for the local yobs and piss heads to congregate. Perfect habitat for "pricks" you might say.
So what then for these birds when they have no young to raise and when they feel the urge to gather in "safe" flocks of other moulting birds in formal park areas where there is ample grass to eat- their natural diet after all.
Sandwell council and their pest controllers who act in blind arrogance at their ability to plot to kill birds who do no harm, and by their own figures were needlessly killed because Sandwell council employees failed to do the jobs that they were supposedly paid to do.