Severn Trent Water became a privatised company in 1989, and ever since then they have been progressively flogging off land once in public ownership primarily for housing. This toxic cycle is confounded by the fact that such "crap sites for residential" just add into the network to which they do not invest , but which they claim to but are not with their combined sewer nightmare being inflicted on the environment on a daily basis.
Sewage Work sites such as Tividale and Roway Lane went this way early in the process, with the former being one of the most controversial planning applications ever considered in Sandwell, and where the council turned down numerous applications before a dickhead planning inspector reversed it. The site was built next to the notorious rattlechain lagoon, even described by a planner in Sandwell as being "a crap site for residential".
During this process, one individual from this company made it his business to attempt to subvert the planning process even though they had already sold the former works off to a bunch of cowboy foundry sand dumpers- even demanding a meeting with the chief executive of the council when it looked like the planners were going to turn it down. The cheeky fucking bastard him! Obviously there was some get out clause at work here if the site did not get planning permission, and no doubt would screw the deal leaving STW stuck with the site. I wonder how much He stood to lose as a bonus if the deal went tits up?
STW did nothing or spent next to little to remediate this crap abandoned land which caused blight and misery for local residents for years. This is a theme which reoccurs with STW owned land , whereby it seems that the public purse pays for their soiled leftovers, through some bent entity like The Black Country Development Corporation, or of late The West Midlands Combined Authority. NEITHER OF THESE BODIES HAVE OR HAD ANY PUBLIC MANDATE FOR THEIR CREATION- THEY ARE THE INVENTION AND  HOBBY OF POLITICIANS WHO INVARIABLY INVEST THEIR OWN PERSONAL WEALTH IN THE HOUSING MARKET OR THE CONSTRUCTION INDUSTRY, OR WHO ARE PRIVATE LANDLORDS . 
One recent site at Friar Park which I also looked at HERE, saw some pieces of SMBC land tacked on to STW land for a sale package, and this too will be met with remediation from the public purse, and not STW's. The "consultation" for this proposed scheme has been a corrupt farce and has also suffered from a ghastly PR firm trying to convince locals that it is a good idea, when they will only get 100's of new houses added to their local area, and of course coming with it will be the shite that each house produces.
From an earlier time before they were privatised, we see the legacy of industrial landscaping by dumping toxic dredged waste from The River Tame dumped on this land now being proposed for housing. The Friar Park Water Reclamation Works were dumped upon due to that old chestnut of "preventing flooding". This absolute fraud has been going on for decades, and still they lavish money from the public purse again on this fake and falsified claim, even building houses on this very flood plain itself! There's an "emergency" don't you know.  🙄
STW applied to SMBC to demolish tanks and fill over the site with all the crap which had gone into their network , and likely flooded the Tame with sewage over a long period of time. They were not killing birds, though they of course have been caught out doing this, but killing two turds with one stone, by dumping crap from water to land. The deluded individual from SMBC is of course part of the problem, and how incredible that this authority itself should end up having to now clean up the site again to "make it safe" FFS!
This sell off of sites appears to have operated under Severn Trent Water Holdings, but the following company was incorporated on 10th March 2011 to handle 11 sites which they still had control of, based at their headquarters in Coventry.
There are four current directors, Gemma Eagle, Shane Anderson, Robert McPheely, (who has no less than 93 other appointments as a director of STW offshoots also based at the same location address), and Alan Durham.      .
Most of the people at the top of the pups at STW have a background in the banking industry or utilities, and so are well placed to squirrel away the pocketed money from this "buying and selling of own real estate". They certainly have no background in environmental matters.
Midlands Land Portfolio represent the very worst of land banking, that political immoral creation championed by the privateer capitalists who no doubt own all the shares and stand to gain from the dividends. Little investment as possible- maximum sale is what it is all about.
Even MLP themselves admitted that they are land bankers in 2012 to describe their 300 acre area of land not available at that time of course.
Another article reveals that they partnered with Northern trust to pursue the marketing of this land, a firm controlled by the late Billionaire property developer and race horse owner T J Hemmings.
A rolling scrutiny of MLP's annual returns to Companies House reveals the scandalous wealth building of how this land they are sitting on, once in public ownership has grown in value for them and their parent company, who continue to fail to invest in the infrastructure they are polluting water courses with like in Smethwick. This is profit for their scummy shareholders and for the CEO Fatcat Garfield also.
2012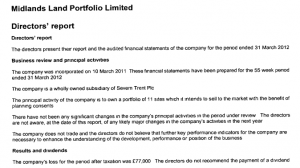 For the first year period ending in March 2012, we see this company explain its raison d'etre and the key statement that its 11 sites were at this point valued at £7,127,100. Remember this figure, which I will compare it to at the end of 2022, some 11 years later. 
2013

This report confirms no sale of any of the 11 sites, yet look how the value of land banking has paid off for them with a rise of nearly a million squid to  £8,049,000
2014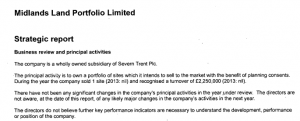 This report confirms that one of their sites was sold in this period for £2.25 million. 
Despite this, look how much their land had made them. They had sold one site out of 11, and yet were up on what the value of 11 sites had been some two years earlier. £7.272,000
2015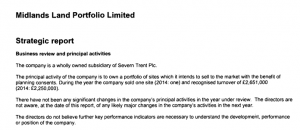 This report confirms that another site was sold in this year for £2,251,000, thus leaving 9 sites left. 
The value of these 9 sites still stood at £6,620,000

2016
In this year, this report confirms that this entity was no longer just concerned with flogging off its own land. It was now buying sites as well, perhaps to bolt on bits to others in their portfolio? Another site was sold, leaving 8 from the original, though the extra five now meant that they were standing at 13 sites. This sale garnered them another £3.025 Million. 
They now call this land "inventory" in the report, and confirms that the 13 sites were now worth £10, 258,000. Remember they had started with 11. 
2017
This report confirms they sold none of the 13 sites in this year, but bought another 5 , now making 18!
This now put them on £16,292,000
2018
In 2018, MLP sold two sites, thus leaving 16 now. This gave them another £4.182 million.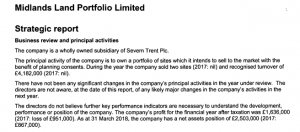 The value was now £20, 492,000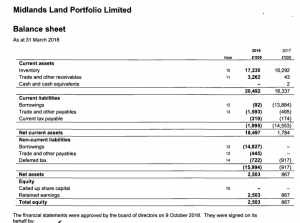 2019
This year saw MLP cash in 4 more sites , with talk of one site generating a stream of income over 5 years. I wonder where this is? All in all, this disgusting entity made over £21 million from this, in the year when they first came onto our radar in polluting Smethwick Hall Park and killing birds.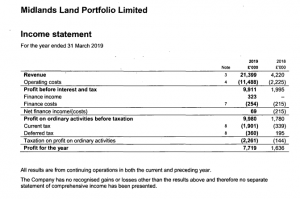 The total assets now stood at £16.680,000 and still owning the 12 sites.
2020
Another flog off was made during the plandemic with a further 5 sites cashed in, thus leaving 7 remaining.
This saw another figure of around £8.5 million into the squirreled away coffers of the Coventry Crapsters. 
For some reason, the land value had now rocketed to £22,833,000
2021
This must have been an Annus horriblis given that they sold no sites. Therefore still retaining 7.
But pity them not, as despite this, the land value had gone up, now standing at £25,625,000. 
2022
The most recent statement to hand shows that another two sites were sold, thus leaving five left. This gave them another £7,837,000. 
The land value had also now gone up to £27, 056,000
MIDLANDS LAND PORTFOLIO TOTALS UP
2014 £2.250,000. 
2015 £2,251,000
2016 £3,025,000 
2018 £4,182,000
2019 £21,327,000
2020 £8,465,000
2022  7,837,000
A GRAND TOTAL OF £49,337,000   FROM  16 SOLD SITES  IN NINE YEARS.
WELCOME TO THE PERVERSE WORLD OF THE PRIVATISATION OF THE WATER INDUSTRY, WHERE A COMPANY LIKE THE DISGUSTING SEVERN TRENT INVEST NONE OF THIS BACK AND PAY PALTRY FINES FOR THE GRIME THAT THEY ARE SELDOM CAUGHT OUT ON, WHICH IS SIMPLY NOT ENOUGH. 
So there you have it. No matter what claims are made about investment in the future, their insincere "apologies", or the ear ringing currently going on in Parliament or elsewhere, they have spent years making money out of once publicly owned land and polluting more of it. Whilst this water industry sits on its land bank, it shits in our water.