I have asked two freedom of information requests about the cull of geese which took place last year and this year. Another request also revealed a little more information.
This week we have a response to another request. We learn here some significant new information, which once again appears to undo some of the original claims of Sandwell council that they made officially when their pants were first pulled down about their secret cull.
Before discussing this I would like to state that the person making this request is not known to me before this campaign started, and also made this request herself without orchestration.
The request contained within the letter covered several points, which have attempted to rebut and which we will also look at in conclusion. It also set out to scrutinise some of the other FOI request information and statements then made by the council. Once again, the response was dealt with by Streetscene director at SMBC Steve Handley- John Satchwell's immediate line manager. Only the personal details of the requester have been redacted below.
WHAT WAS ASKED AND WHAT DID THEY KNOW?
1. The number of complaints received from members of the public (as recorded on the Council's formal complaints recording process) for each year for the last five years concerning geese in Victoria Park Tipton and Dartmouth Park West Bromwich. Please exclude any from John Satchwell and his family
"The number of formal written complaints totalled 8:
0 in 2010

2 in 2011

2 in 2012

2 in 2013

2 in 2014
In addition to the numbers above, we constantly receive verbal reports from park wardens, gardeners in parks, volunteers and sporting organisations with regards to fouling of amenity areas and sports pitches by Canada geese and their aggressive behaviour during the breeding season – these are not formally recorded. Ultimately a combination of all complaints received led to our decision to undertake a culling programme."
2. The specific powers under which the culling decision was made, as devolved to the Council by government generally and specifically to the Cabinet member (Maria Crompton) by the authority.
"A licence was granted by Natural England to the company employed to undertake the work. I would refer you to the Natural England technical information Note TIN046 with regard to this
http://publications.naturalengland.org.uk/file/96006
Councillor Crompton, as cabinet member for Highways and Environment, has the authority to authorise such actions under delegated powers as assigned in the council's constitution Part 3 responsibility for functions
The Cabinet Member for Highways and Environment Portfolio Responsibilities are as follows.  "Where not otherwise reserved to the Council, a committee of the Council or other body under the Local Authority Functions Regulations, or where authority has not been delegated to a Chief Officer and, in consultation with a relevant Cabinet Member, as necessary, to take responsibility within the Cabinet for all matters relating to (which includes specific reference to):
The policy direction for countryside management, nature reserves, parks, green spaces and visitors centres.

Environmental services including cleansing, grounds maintenance, public conveniences and the maintenance of water courses".
3. Was Maria Crompton's decision ultra-vires given geese are not classed as vermin?
"In response to your question I would again refer you to the Natural England web site http://publications.naturalengland.org.uk/file/96006 
that legally allows Local Authorities to undertake such action."
4. If Maria Crompton has acted beyond her powers, what action will be taken to discipline this elected member?
"No action will be taken against Councillor Crompton as cabinet members have the authority to authorise such actions under delegated powers." 
5. Identify the names of all (if any) wildlife, animal rescue / sanctuary organisations or experts that were approached by the council for advice or support in analysing the most recent issue of excess geese in the parks, and similarly who may have assisted in generating solutions to the problem.
"Officers within the council have appropriate qualifications and experience to advise on such matters and discussions and actions on alternative control methods have taken place; from pricking eggs to planting water margin plants, fencing water edges to discouraging over feeding.  These are tried and tested methods but we have still failed to reduce the numbers to manageable levels within our formal parks. One of the officers spent a number of years working for  the Wild life trust and two colleagues have degrees in Environmental studies.
6. Identify the total number of other culls performed by the Council over the last 5 years, and for each, provide details of the date, the species involved and number of animals per cull, plus the specific powers used to support each decision.
"No other culls have taken place previously to 2013 and 2014 and the powers used are referred to in my response to question 3 and 4.  The number of Canada geese culled during that period has totalled 220. 150 Canada Geese in 2013 from Victoria Park, Tipton and Dartmouth Park, West Bromwich and 70 Canada Geese in 2014 from Victoria Park, Tipton."
WHAT DOES THIS MEAN?
Sandwell council made the following statement on their facebook page and also to the media press release at the time in relation to the number of complaints concerning geese in the two parks in question where they were culled.
Maria Crompton is directly quoted;
"I'm very sad we had to do this but people's safety and public health are paramount. We have done this as a last resort and as humanely as possible in response to repeated complaints and real concerns of park users including parents with young children."
Maria Crompton in her letter to me dated 14th August 2014 states
"We receive numerous complaints from families with young children complaining about the mess they leave and their aggressive behaviour during the breeding season."
John Satchwell's report, designed as a so called "pilot", and approved by Crompton, but without naming any location stated that a cull should be carried out  and  "to identify two locations where the problems exits."
THERE IS NO MENTION WHATSOEVER OF COMPLAINTS MADE BY MEMBERS OF THE PUBLIC IN HIS REPORT TO BACK UP ANYTHING THAT HE SAYS- OR MORE CRUCIALLY TO JUSTIFY THE CHOICE OF SITES. LET US REMEMBER THAT THE TWO SITES CHOSEN , APPARENTLY BY HIM WERE
(A) VICTORIA PARK TIPTON-  IN WHICH HE LIVES
(B) DARTMOUTH PARK WEST BROMWICH – WHERE HIS SON WAS PROJECT MANAGER.
In question 1 we revealed the lies of Sandwell council and Maria Crompton in isolation. Eight complaints were made in four years, with 0 in 2010 in these two parks. Just eight to justify the murder of 220 birds to make some pathetic scumbag feel better about themselves. We would question how many of these complaints tally for each park, as this is not broken down, and would consider that with such a correlation by year that it is the same individuals or even individual making a repeat complaint.
Whereas the council may have justification in undertaking action on something which is a persistent source of complaint, the number of formal complaints here  does not in any way justify such a final murderous solution. Satchwell's report was titled "To propose options for the reduction of Canada geese numbers in Urban parks" , yet the subject of complaints never arises, just his own biased and misguided desire to murder geese- without option.
Handley's subsequent backpedalling on informal complaints is desperate and also pathetic from this director. Informal complaints do not count at all and we do not accept their lack of recording as justification in the unravelling of Sandwell council's lies. We have spoken to Sandwell parks gardeners at these parks, both past and present, and none have stated that they have made complaints about the geese.
There is also doubt as to the reliability of the information supplied in answer to this request by Sandwell council. Usually, councils refuse to disclose information that would take an excessive amount of time to compile, on cost grounds, yet they are able here to plough through 5 years worth of letters that could be written on all manner of subjects, and cover a broad range of complaints, from geese fouling, to dog fouling. Were the letters entirely complaining about the geese or about bird mess in general? –  We do not have the letters, so we are left to Sandwell council's reliability on this matter.
2/3/4  In questions 2-4 Sandwell council hide behind a Natural England document that they appear to have found, (or I believe have been advised on by Natural England) subsequent to the cull and not in possession of before it.
Behind the legalise of powers deferred to Crompton, we learn that she had the final say on approving Satchwell's misguided report, and that she does not appear to have even scrutinised anything that he says within it. WE LEARN THEREFORE THAT SHE IS REPSONSIBLE ULTIMATELY FOR 220 BIRDS BEING MURDERED BASED ON COUNCIL OFFICER LIES, AND THAT SHE HAS BLOOD ON HER HANDS FOR THIS.
THIS IS NOT THE ACTION OF AN ANIMAL LOVER BUT THAT OF SOMEONE ENGAGED IN ANIMAL CRUELTY
5. The claims made by the council concerning alternative control methods, which we do not accept are necessary in any case, have not been rolled out as the council suggest at the two sites in question. At Dartmouth park, the abhorrent cull of geese came before  the erection of metal  fencing around the "duck pond". It was alleged by Maria Crompton in a letter dated 16th October 2013 , that this fencing was installed as a result of restoring original features of the park- and nothing to do with geese. Furthermore as a result of the complaint that it no longer allowed the birds free movement between the two pools she states
"Whilst it is acknowledged the erection of the fencing did disrupt the bird movement initially, evidence suggests the swans, geese and ducks are adjusting to the physical changes and there has been no detrimental impact to their well being."
THIS IS THE WOMAN WHO ALLOWED 220 BIRDS TO BE KILLED, AND SIGNED OFF THE MURDER OF A REPUTED 150 IN THIS SAME YEAR, JUST MONTHS EARLIER,BEFORE THE FENCE WAS INSTALLED. DOES SHE HAVE SELECTIVE AMNESIA ABOUT THIS? The detrimental impact of breaking their necks seems to have been forgotten by her.
We know that egg pricking was not being carried out at Dartmouth park in particular for many years, where it would not be uncommon for around 40 goslings to be creched together around the duck pond.
The picture that we have used of goslings grouped together was taken in 2011 at Dartmouth park.
Here they are when they were older at the duck pond.
The officer at the council who used to work for the wildlife trust- PAUL SMITH SANDWELL CONSERVATION OFFICER WAS ASKED THE DIRECT QUESTION IN A TELEPHONE CONVERSATION THAT I HAD WITH HIM ON   22nd July  2014
"You can't ever remember any report being written about anything like this about exterminating or culling geese?
"No nothing's ever come past me, I aught to be told…."
"……I know nothing about this. I would be totally against it."
WE WOULD NOTE THAT THE CULL AT VICTORIA PARK TIPTON IN 2014 WAS PERFORMED ON A DAY WHEN CHRIS MOORE, MATT DARBY AND PAUL SMITH WERE ALL ALLEGED TO BE ON ANNUAL LEAVE- WAS THIS DELIBERATLEY ARRANGED SO THEY COULD ALL DENY ANY KNOWLEDGE OF EVENTS?
6. We believe that geese went missing from Dartmouth park in 2014 and not 2013 as stated. Individual and distinctive geese disappeared from this site. This just adds to the mystery of why geese on Victoria park Tipton were culled again in such numbers- on the basis of what complaints- 2?
THE WRITTEN LETTER IS DETAILED BELOW. In response to some of the comments made by Steve Handley we respond as follows beneath each page.
 We do not know if any goslings were culled- and why really should this even matter? THEY ADMIT TO KILLING 220 BIRDS-AGE IS NOT RELEVANT- THEY WERE FLIGHTLESS AND HELPLESS UPTO THE POINT WHEN THEIR NECKS WERE BROKEN BY COWARDS. WE ALSO DON'T TAKE ANY WORD OF THIS COUNCIL AS TRUTH BASED ON EXPERIENCE.
The officer decision appears to be final- without any scrutiny, or what their motive may be- in John Satchwell's case a pecuniary one undeclared.
We are told here that he has lived in Victoria Park for over 40 years. We also know that he started his long career at Sandwell as a gardener. We do not accept Handley's claim- John Satchwell's report and subsequent decision to choose this site in his pilot cull has everything to do with him living in this park- only Sandwell council would not see that because they believe themselves to be devoid of criticism and scrutiny over personal declarations of interest, as does their so called "monitoring officer"- little more than a taxpayer funded legal aid for dodgy councillors.
So the geese were not and are not fouling on the grass near his house (on amenity grassland that his report speaks of). So now we know the truth.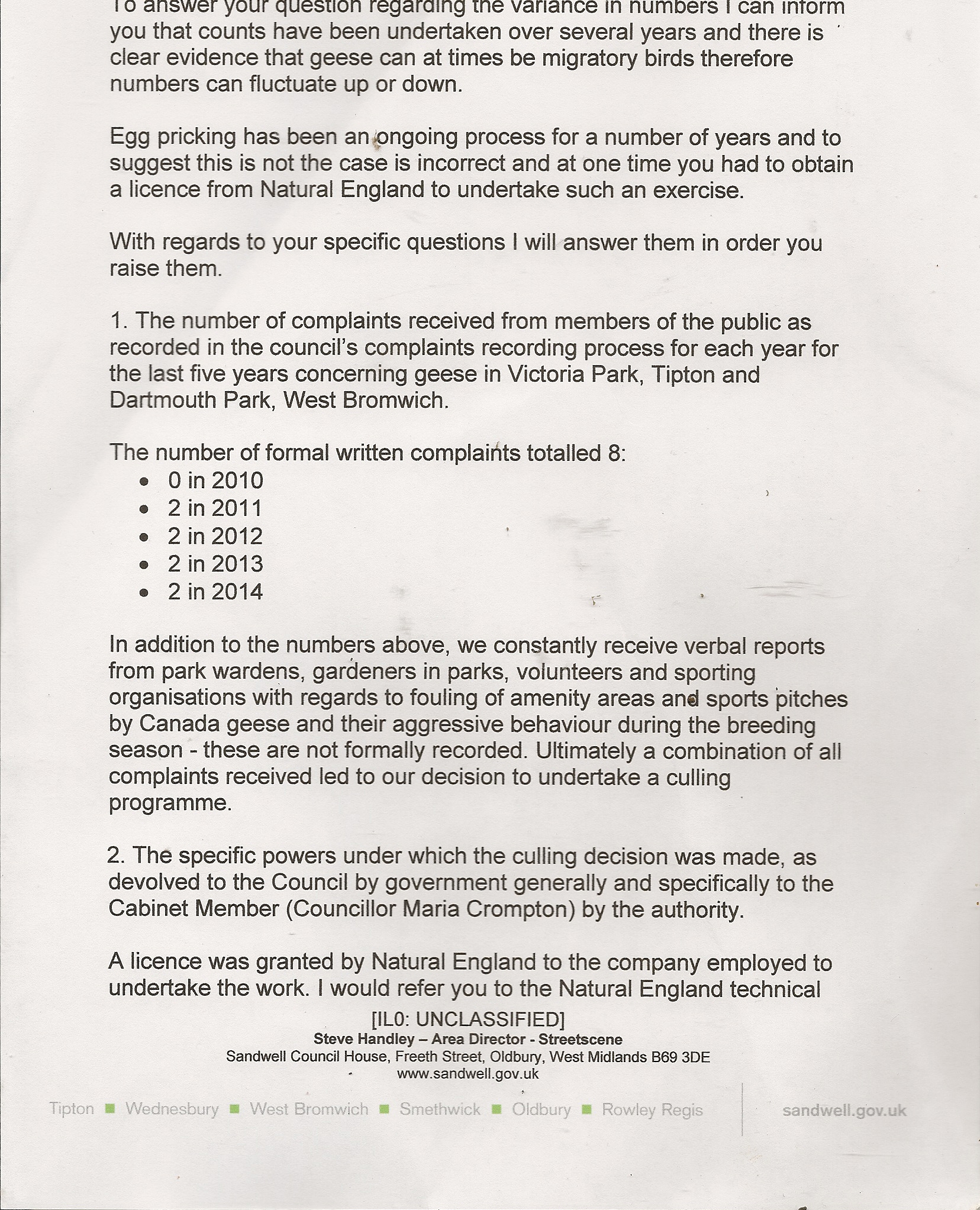 Geese in the areas in question are not "migratory" in the real sense of the word. They moult at the sites in the summer- when the council takes this opportunity to catch them in large numbers. The inconsistency in the numbers shows a rubbish understanding of the birds; movements- one not based upon any observation at all- just wild guess work from office based turd holes in Sandwell's parks department.
In terms of egg pricking- evidence above confirms Sandwell council's and Steve Handley's claims to be incorrect and not based on fact at all.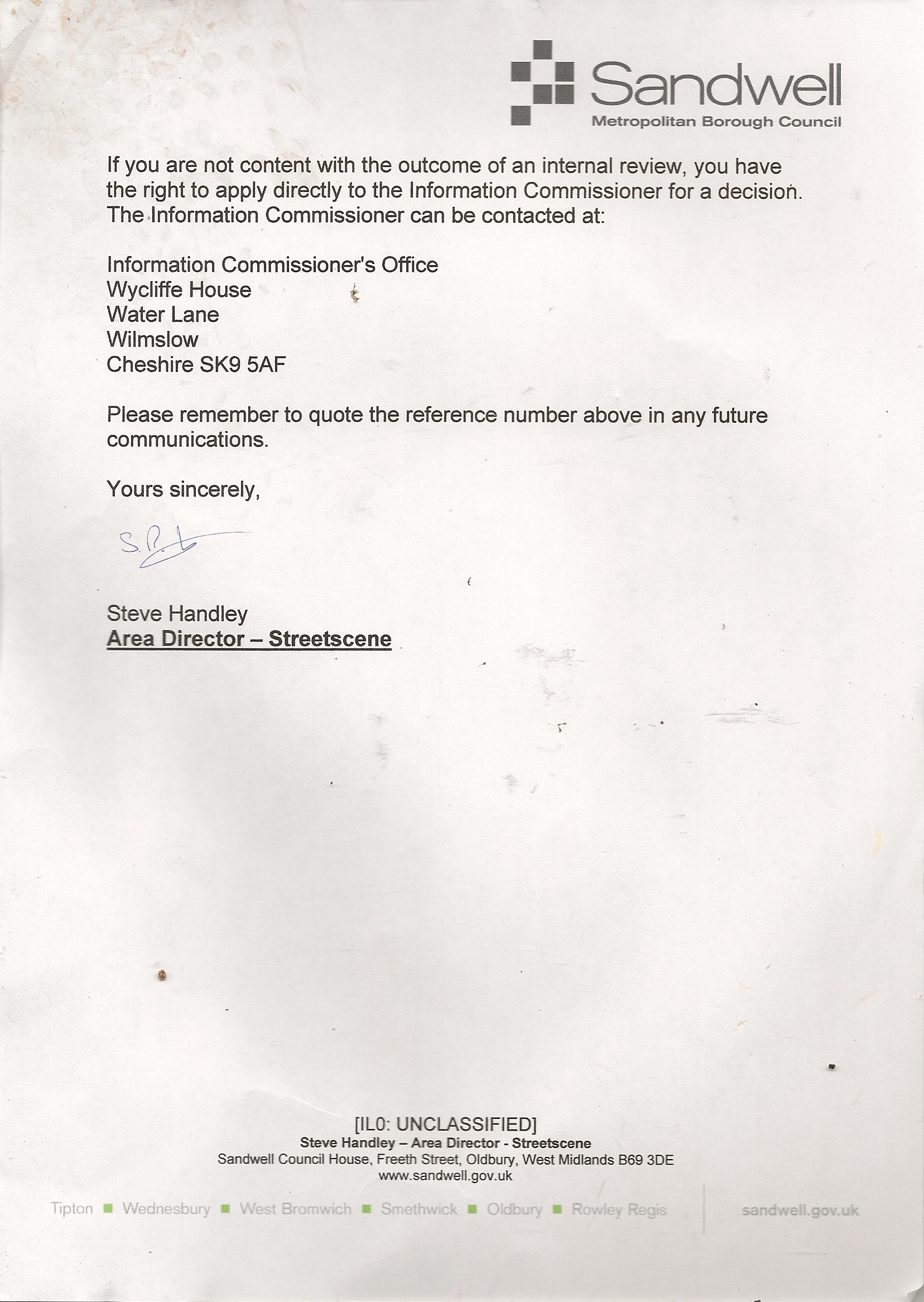 LIES, DAMNED LIES AND STATISTICS- SHOULD BE THE MOTTO OF SMBC