BACKGROUND
At the start of this campaign, it was made clear that officers of the council had stated that the geese in 2013 at Victoria Park Tipton had been "relocated to the Sandwell Valley". This was expressed by John Satchwell, senior parks manager , as well as the pest control company themselves, whose representative on the day made numerous claims about what they were there to do, at no time stating that they were going to cull them. This information was clearly utterly false and therefore a lie.
Added to this, the Sandwell Valley manager Chris Moore, nature conservation officer Paul Smith and Matt Darby senior countryside ranger, all based in offices within the Sandwell valley claimed to know nothing about any "relocation", which is illegal without a specific licence, or any proposed  cull of the geese.
Matt Darby was asked to send me pictures of the geese being released, and this he did in 2013, the email of which I have already published along with the pictures which he claims to have taken. He also stated quite clearly that he had seen the geese from Victoria park exiting the trailer onto the causeway at Forge Mill Lake, an RSPB nature reserve which is also part managed by Sandwell Council.
In 2014, after the disappearance of geese at Victoria park again, and seeing the same fencing set up in the park, I attempted to contact the same officers to ask what they may know. None appeared to be at work that week , and it was with some reluctance that I accepted to speak to John Satchwell to see what he would actually admit. During this phone conversation, he repeatedly claimed that the geese had again been relocated, whereby I informed him that this would be illegal. He also claimed that this had been done over a number of years, whereby geese from formal parks had been relocated to Sandwell Valley, Sheepwash Nature Reserve and Woden Road. All these sites were named by him directly. The phone call conversation ended abruptly when he put the phone down, this after making unfounded allegations against myself in a smokescreen attempt to change the subject and divert the pursuit of the truth, and his perverted version of it.
"CANADA GEESE ARE QUITE PAROCHIAL" HE CLAIMED WHEN STATING THAT THE RELOCATED BIRDS WOULD FLY BACK TO TIPTON- DIFFICULT TO SEE HOW WHEN THEY HAVE HAD THEIR NECKS BROKEN.
He also made verbal threats before this.
JS "…I might do something that you might regret and something that I might regret."
IC "Is that a threat"
JS "Yes you can take it as a threat."
AT THIS TIME I WOULD LIKE TO MAKE IT QUITE CLEAR, THAT HE DID NOT RETRACT HIS VERSION OF EVENTS THAT THESE GEESE HAD BEEN "RELOCATED" IN BOTH YEARS.
NO FURTHER CONTACT WITH JOHN SATCHWELL TOOK PLACE BETWEEN HIMSELF AND MYSELF, EITHER WRITTEN, EMAIL, TELEPHONE CONVERSATION OR OTHERWISE, AND IF HE CAN PROVE THAT IT DID, THEN I WOULD VERY MUCH LIKE TO SEE IT.
I WOULD ALSO LIKE TO STATE THAT I HAVE NOT ATTEMPTED TO CONTACT HIM AT ALL SINCE THIS TIME IN ANY FORM OF CORRESPONDENCE.
I DID HAVE THE MISFORTUNE TO BUMP INTO HIM ON THE BIRMINGHAM CANAL WHERE HE AGAIN ATTEMPTED TO PROVOKE A CONFRONTATION WITH UNFOUNDED ACCUSATIONS. THERE WAS NO CONVERSATION WITH HIM, DESPITE HIS VERBAL COMMENT
"YOU LITTLE SHIT."
As officers of the council, I took their words at face value, as I have known them for a number of years, and believed that they could be trusted. Alas it now appears that these liars were part of a conspiracy of silence within the corrupt Parks and Countryside Department at this council , and I use this word carefully under the terms of the dictionary definition. "CORRUPT" adjective
1.
guilty of dishonest practices, as bribery; lacking integrity; crooked:
debased
in
character;
depraved;
perverted;
wicked;
evil:
THIS IS A TIMELINE OF RELEVANT EVENTS.
The geese

I was told, had been culled under licence, and not "relocated" as all the officers appeared to state had happened.

They had also been "relocated" to be culled at the Sandwell Valley. It was stated by Steve Handley that this had took place after a written report in his freedom of information request reply, which I subsequently asked for by asking another.
The response illustrated that John Satchwell had written this report. I have looked at this and its deficiencies and credibility elsewhere, and it has also been concluded that many of the claims within it were not justified at all by direct evidence, including crucially, the general licence that the council were claiming to be using was not in the interests of "preserving public health and public safety" but a collection of dubious unfounded prejudices concerning Canada geese.

At this point I cried "foul" given the earlier claims about the geese, when news media uncovered the scale of the deception involving culling in not only Victoria park, where John Satchwell lives, but also in Dartmouth park, in which his son of the same name is a "project manager".

The choice of sites for culling is not specified in the report, and it is unclear as to who made the decision that the parks in question be chosen, and even to what extent the issue was really justified.

In another freedom of information request we learned that the scale of complaint amounted to just 8 in five years, which could well have been pursued by just a couple of individuals with a personal ill founded vendetta against geese, notably about perceived health "risks" which the council have never chosen to prove are creditable risks or quantified to those complainants the very low risk based on sound scientific evidence.
Another Freedom of information request was asked by Jack Weston, unconnected to our requests, but highly relevant, via Sandwell council's facebook page. Screen shots of this are below showing how he was not getting any credible confirmation from the council regards the cull.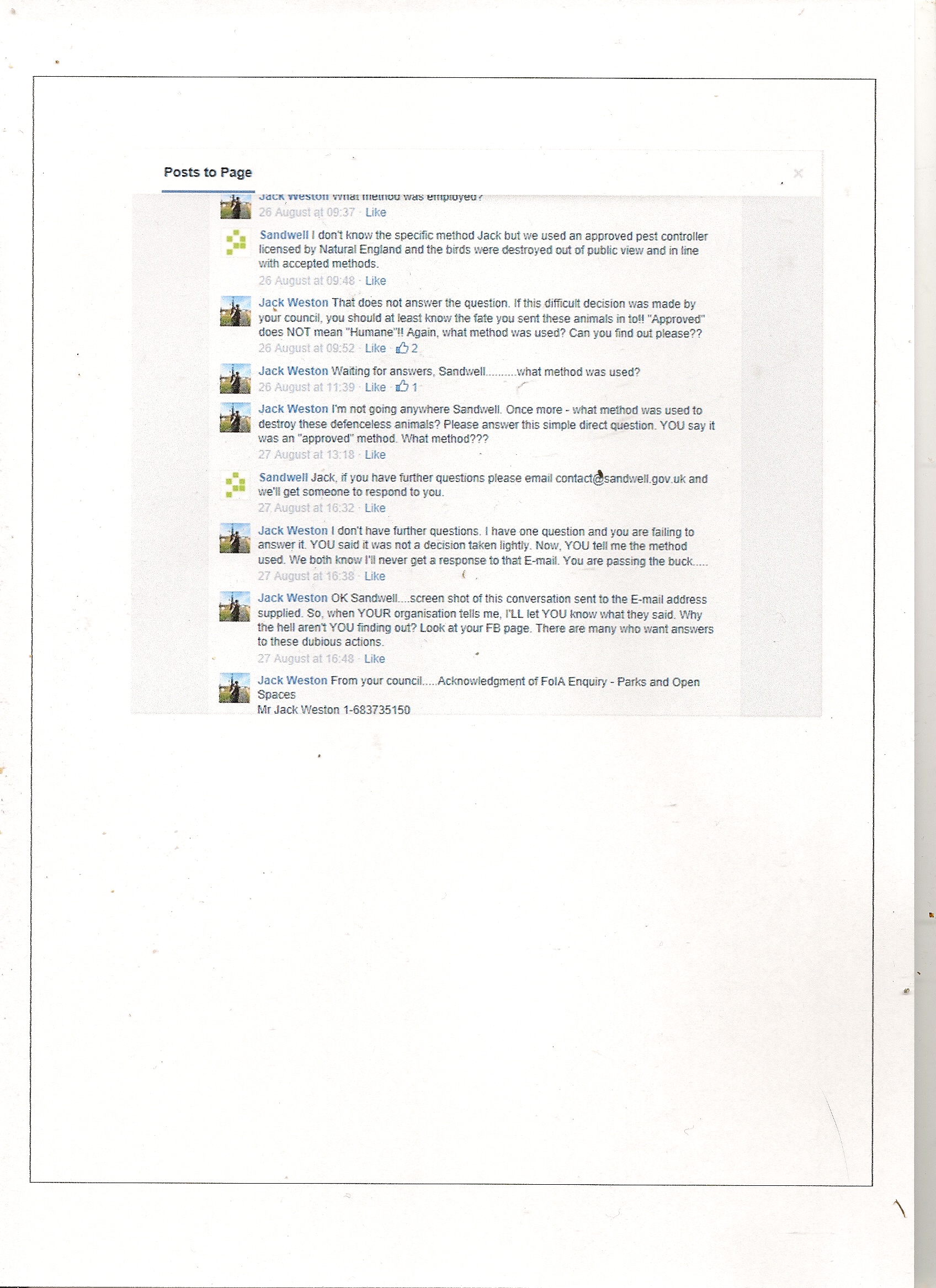 In the response that Jack received Ref 1-683749012 , which is numbered differently to the one posted on the council website,  it is clearly stated by Sandwell Council that

"NO ONE LIED".
The response was put on their website, and it remains there. Here it is below where relevant lines are circled in red.
So in this Freedom of information request answered in August 2014, Sandwell council claim that "no one lied" about the cull of geese.
ix. After not believing a word of what John Satchwell and co were saying, I submitted a complaint about being lied to by him and others and also the manner in which he dealt with this over the phone concerning the verbal threats.
x. The response that I received from Steve Handley, whom we now know was complicit in the cull, (or so it is now claimed), did not state that Satchwell had lied at all or make any such admission that he had, but accepted that he had spoken out of turn. I was not satisfied with this and asked for a stage two review, whereby the council appoint a supposed "independent investigator " to interview relevant parties. Background information relating to their role and how much they are paid by the council can be found HERE.
xi. This was facilitated and it appears that the investigator interviewed a number of officers, Steve Handley, John Satchwell, Paul Smith, Matt Darby and Chris Moore, as well as myself. Added to this I also asked for PC ROBERT PRICTHARD who is supposed to be the local wildlife liason officer to give evidence, who claimed that all parties had told him that the geese were culled in 2013 and 2014, thus proving that they had therefore lied originally.
It was quite clear to even a fool, that Sandwell council were up shit creek with this one, and so, I finally have written confirmation that the independent investigator found that I was lied to by all the officers, including John Satchwell, who has now finally admitted his deception, as well as the fact that he made verbal threats to myself after questioning him about lying.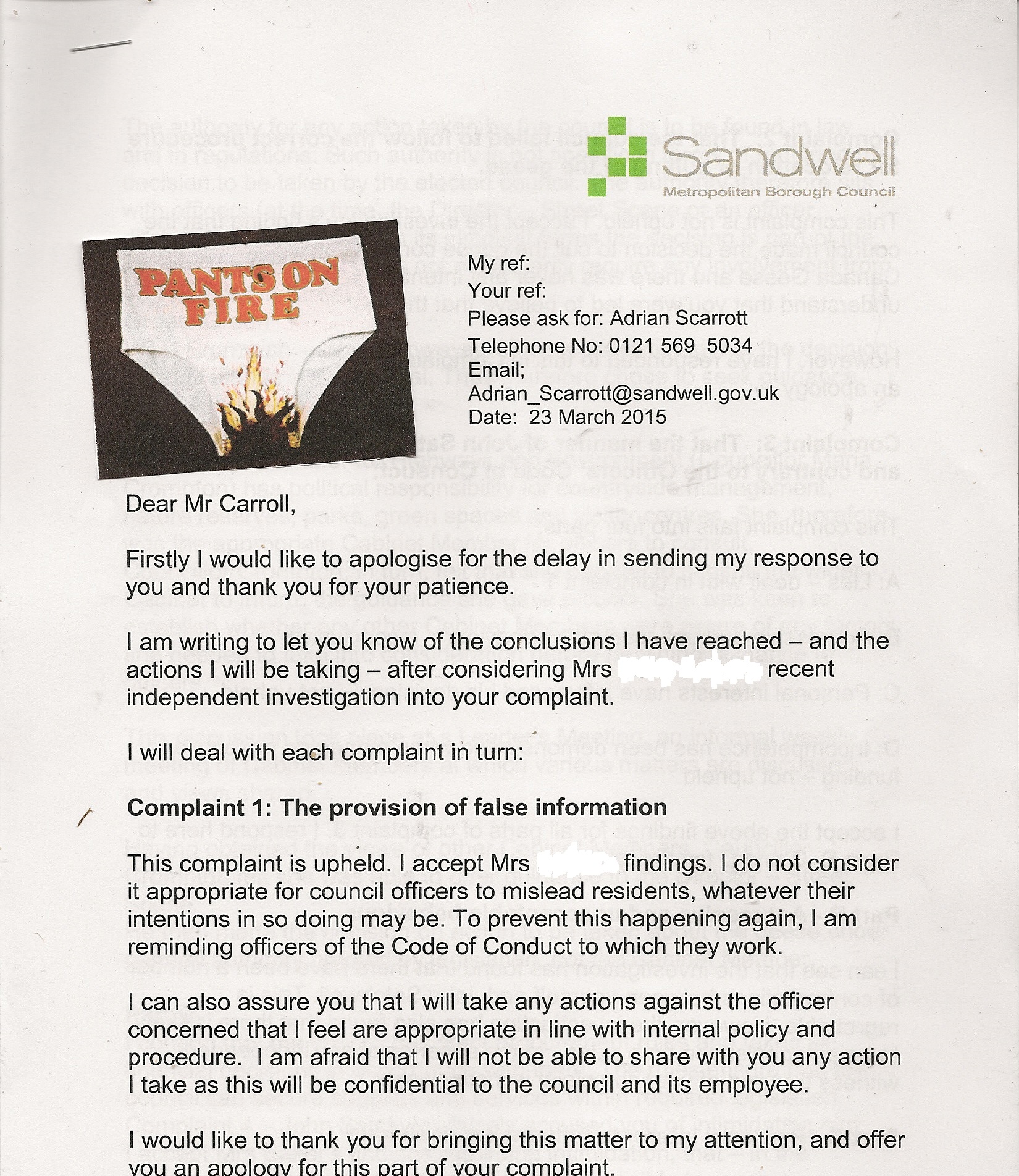 THIS PART OF MY COMPLAINT HAS BEEN UPHELD, AND THE COUNCIL HAVE NOW ACCEPTED THIS. BUT THIS THEREFORE LEAVES THE QUESTION AS TO WHY DID THEY ALSO CONTINUE THE DECEPTION AND LIE TO JACK WESTON? IT IS A CRIMINAL OFFENCE TO WITHOLD INFORMATION UNDER THE FREEDOM OF INFORMATION ACT- SO WHICH OFFICERS WERE COVERING THE DECEPTION AND WHY? SEE THE NEXT BLOG POST.