And behold, Liv Garfield performs a miracle. Perhaps she has solved drought in Africa forever more. Here's a reminder of their 2020 performance, and the 
"64 years worth of raw sewage dumped into rivers and streams by Severn Trent"
 I touched on oral evidence given by the CEO's of water companies to The Environmental Audit Committee in this post, but had missed the revelation of her rise to Sainthood which makes a reappearance in the latest report by the committee based on the CEO evidence. The Government report doesn't make very good reading for Ms Garfield and her grossly overpaid colleagues.
The full transcript of the October meeting can be read in the PDF below.
Water quality in rivers oral evidence
At Q408, the Chair of the committee asked her if storm overflows were basically being used as routine toilet flushes, rather than in exceptional circumstances. Storm overflows were of course blamed for raw sewage pollution issues at Smethwick Hall Park and Victoria Park Smethwick.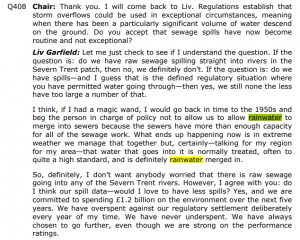 Garfield claims, (her quotes in brown to represent her company),  "If the question is: do we have raw sewage spilling straight into rivers in the Severn Trent patch, then no, we definitely don't."
But this was not the case in Smethwick Hall Park, which is not a River, but a water course that is part of the eventual catchment. As a reminder, here is what the EA observed.
She is therefore a liar in this respect, as raw sewage in Severn Trent's patch, has and is going straight into watercourses.
Further on, she answers that there is no raw sewage going into rivers.
"I do not have raw untreated sewage going straight out from the works into the river. We do not have that."
The following fine given to Severn Trent Water last year after being taken to court by The Environment Agency for allowing raw sewage to be discharged from their works in the Worcester area can be read at the link below.
Severn Trent Water fined £1.5 million for sewage discharges – GOV.UK (www.gov.uk)
I will look more at this further on in this post, as the committee themselves were not as dim as to take Garfield's evidence  as being in any way truthful.
She then goes on to perform the miracle. Diluted shite is obviously much better than raw shite according to her, as it contains more rainwater.  🙄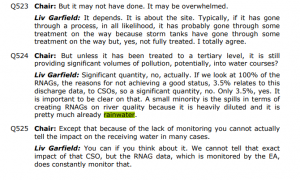 The chair then makes the point about EA monitoring, which of course as we have observed from our own reported matters, is simply not good enough when they send out the polluters to mark their own work, or cover it up as the case is. The combined sewer overflows such as the ones on Smethwick are the problem and not the solution, and need to be removed.
It is also worth pointing out that Garfield's company under the dubious "Midlands Land Portfolio" based in the same Coventry building sells off land formerly in public ownership for housing development. Past examples include The Tividale sewage works, Roway Lane, and the polluted land in Friar park. None of these sites "crap sites for residential" were remediated by their owner company or by them, and of course contributed and will contribute to more pollution, rainwater etc into the network.
After the evidence had been gathered by the committee, the latest report by can be read here. Specifically, Garfield's evidence and statement is heavily criticised as "disingenuous", from paragraph 147 onwards, but I would call it as bullshit fucking lies, which is what it really is.
"148. While this claim may have been intended to reassure us about the discharges from overflows on the Severn Trent network, we do not find it convincing. Levels of pollution in combined sewer overflows are not routinely monitored. As Dr Rob Collins of the Rivers Trust told us, and as we observed above, discharges from combined sewer overflows "combine raw sewage with what runs off the urban environment", potentially comprising "a huge chemical cocktail: faecal microbes, hydrocarbons, industrial chemicals, plastics, pharmaceuticals [and] personal care products" with unknown effects on human health if swallowed."
"151. We therefore found the claim made by the chief executive of Severn Trent that its sewer overflow discharges were 'pretty much already rainwater' to be disingenuous. As water companies do not routinely test the quality of the discharges from storm overflows, they are in no position to make this claim. Discharges from overflows can be highly contaminated with raw sewage and other pollutants. To claim otherwise shows a disregard for the public's concern about water quality in rivers."
Of course we do know that Severn Trent Water do release raw sewage, and only last month , as the committee note, they were fined £1.5 million yet again for doing so. N.B It should be noted that this is only half of Garfield's reported annual  salary for failing to safeguard the environment as CEO of this serial polluter who release tsunamis of  shite into water courses. These incidents all occurred on Liv Garfield's watch, and maybe it is time the shareholders started asking questions, as they along with her are associated with a serial environmental polluter who desperately attempt to hide their environmental destruction by planting trees in the hope that people will not see the wood. 
Severn Trent Water fined £1.5 million for sewage discharges – GOV.UK (www.gov.uk)
"Severn Trent Water Limited has been fined £1.5 million for sewage discharges from 4 sewage treatment works in Worcestershire between February and August 2018. The water company has also been ordered to pay prosecution costs of £58, 365. 
The court heard how the company failed to respond to alarms warning of a blockage, failed to adequately manage sewage sludge, and failed to adequately manage a situation when a piece of equipment failed. Resulting in sewage being discharged into a number of watercourses in Worcestershire.
Prosecuting for the Environment Agency, Counsel Mr James Puzey told the court that in February 2018, Severn Trent Water failed to respond promptly to alarms at its sewage treatment works at Blackminster, near Evesham.  A blockage to the works resulted in approximately 360,000 litres of sewage being illegally discharged to the nearby Broadway Brook.  It was hours before Severn Trent Water operatives attended to take remedial action."