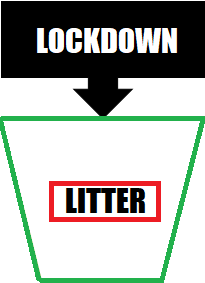 This month we have been raising issues relating to angling litter and the problems that it causes every year for wildfowl and rescuers.
The leaflet below is a collaboration between Swanwatch and Scared Animal Wildlife Rescue, and shows some of the casualties that have been encountered across the Black Country boroughs. These were either as a result of negligence , or poor angling practice, and could have been avoided. Many years ago, The Environment Agency published a "Golden Rules" leaflet. There was also a code drawn up by The National Angling Association, following lobbying from organisations like The National Swan convention, (NSC).
From theNSC  statistics below (which included some of the larger rescues and those of the RSPCA),  this showed how angling issues related to around one third of total recorded rescues of wildfowl, not counting lead poisoning which is also largely attributable to the same source. "Ill" , "injured" or dead birds, could have course also been victims of the same activity.
Unfortunately, as anyone who rescues these type of birds know, the situation has only got worse. Most reasonable anglers would be horrified at these statistics, but there are a few who simply do not care, who need to be rooted out, and part of this involves better management and enforcement of fisheries owned by local authorities and an end to free day ticket fishing.
Our leaflet summarises four main rules, these being
USE BARBLESS HOOKS ONLY
DO NOT USE FLOATING BAITS, WHICH WILL ATTRACT FEEDING WILDFOWL
NEVER LEAVE RODS UNATTENDED OR ON THE BANKSIDE STILL BAITED
REMOVE OR REPORT LOST TACKLE, PARTICULARLY ON TREES, ISLANDS OR BANKSIDE VEGETATION TO THE LOCAL AUTHORITY OR WATER OWNER AND HELP US TO LOCKDOWN LITTER SO THAT IT NEVER HARMS WILDLIFE.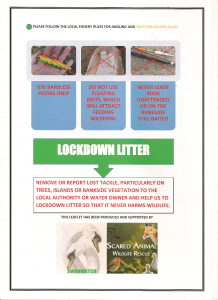 A PDF VERSION OF THE ABOVE CAN BE DOWNLOADED BELOW.
PLEASE PLAY YOUR PART IN SHARING AND LOBBYING LOCAL AUTHORITIES TO TAKE UP OUR CAMPAIGN AND HELP SAVE OUR WATERBIRDS.