Ever since the privatisation of water in  1989 , this company based in Coventry and serving a large proportion of the West Midlands has had a dire record of polluting Rivers, canals and pools with human excrement. They also claim to not be responsible for "third party misconnections" which pollute from their apparatus into waterways.
The issues at Smethwick Hall Park recently prompted me to look back at this company's greatest shits collection. But first from their annual report for last year their claimed mission statement about "building a lasting water legacy" which delivers….. "environmental leadership."
Last year they made over £525 million pounds.

An article from The Sandwell Evening Mail of 11th February 1989 reveals how millions of gallons of sewage polluted the River Stour at Kidderminster. Whatever the dodgy explanation offered for their failure to prevent this contamination, it is the denials at the end of the piece which leaves the worst taste in the mouth, and similar to those that Severn Trent have made about the water quality at Smethwick, in that they did not think this human excrement would have a harmful effect on wildlife!
An article below shows how the Water Act failed to stop companies like Severn Trent polluting the environment. In 1988, they are revealed to be the worst polluter in Britain with over 5,000 incidents; nearly a quarter of the year's total. Yet prosecutions against water authorities was very poor in this year with just 307 out of 23, 952.
If you compare these figures to the most recent from The Environment Agency, you can see how privatised water companies have not solved pollution issues. They are largely now self regulating and can disguise their pollution incidents more easily. How can anyone defend the Water Act 1989?
The article below from September 1990 shows what part of the problem was, and still remains to this day. Privatisation has led to a pure drive towards share holder prosperity, as the failures of pollution and covering it up to protect these profits has soared. The former national River's authority could not find three magistrates who were not shareholders in a case brought against the company for polluting the River Sherbourne.
The following year in March, The Sandwell Evening Mail again reported a Severn Trent sewage pollution problem after an investigation by The Green Party. The Midland Rivers had 51 incidents of sewage pollution.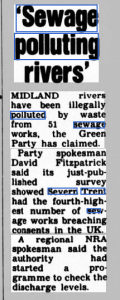 In July of the same year, the paper also reported another sewage pollution incident on the Stourbridge Canal. The headline is totally misleading in claiming that The River Severn had been "saved". Over 30,000 gallons of raw sewage had split into the canal. The company pumped a million gallons of this foul water into nearby fields.
In November, another article stated that British Waterways were looking to the polluter to pay them compensation for the mile stretch of canal that they had had to pump dry. Given that fish were removed from the affected stretch of canal, the earlier claims about not causing any damage to wildlife in the previous incident are of course absolute lies.
The following from the opening paragraph of this article from    tells you all that you need to know about Severn Trent.
"Severn Trent Water has one of the worst pollution records in Britain."
The article also shows the dismal failure of the Water Act in that pollution by water companies had risen massively after privatisation. The obscene profits of Severn Trent and of their share holders were obviously not being pumped back into stopping the sewage issues. In addition to this, they also started to close sewage treatment works such as that in Tividale, offloading the contaminated sites to any cowboy tipper for additional profits.

More recent incidents of Severn Trent pollution are not hard to find.
Their pollution of Sutton Park led to a massive fine- £500,000, but again took years to bring to court. 
Also take for example this incident reported in The Express and Star from 2009 about 30 miles of canal being affected with 1000's of fish deaths in Wolverhampton. 
Just a couple of years later, the same Severn Trent pumping station caused the issue again.
And as if things were not smelly enough in Wolverhampton, a brook course very similar to the one that is seeing raw sewage pollution going into it and out of the Smethwick Hall pool as well as "misconnections" occurred in 2017. 
All of these incidents, both historic and in more recent times show that this water company cannot be trusted to protect the environment. They are a serial environmental damager and launch faecal assaults on the waterways of The West Midlands on a regular basis. Worse still are their claims of not causing any damage and living in denial.
It can only be hoped that someone in Government puts an end to this obscene share holder driven pumping of profits and renationalises the water industry.